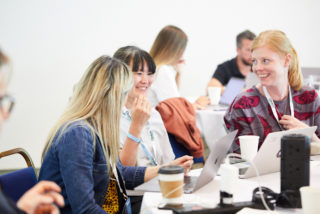 Over three days, you'll spend the mornings gaining unique insights from our excellent speakers, before rolling up your sleeves and heading off to the afternoon workshop of your choice. You'll walk away with the ideas and impetus to positively impact your work, straight away! Come and join us!
Three Day Tickets for UX London 2020
Someone once said we are the Glastonbury of UX, we're not sure we can go that far (and we don't advise you rock up in wellington boots) but we do aim to bring you four nights and three days of incredible content, hands on experience, opportunities to connect with the community, entertainment, inspiration, coffee, craft beer and loads more…
UX London three day tickets include talks each morning from the leading experts in the industry followed by the choice of six interactive workshops each afternoon designed to provide you with tools and insights you can apply directly to your role.
The tickets also include evening socials, parties and entertainment every night from Tuesday 26th to Friday 29th May.
At UX London we love good coffee and superb food, our wonderful baristas from Coffee@33 are on site each day for all your caffeine needs. Lunches are courtesy of a glorious mix of street vans from our friends at Kerb (five different stalls each day) - all that and more is included in the ticket price- so don't hesitate, join us for UX London 2020! 
One Day Tickets: We will launch one day tickets in Spring 2020 after the schedule for the event goes live. Please join the UX London mailing list to hear about them first!
Super Early Bird 3 Day Tickets (On sale until Friday 6th September or until sold out) -

SOLD OUT

£855.00 +VAT
Early Bird 3 Day Tickets (On sale until Friday 24th October or until sold out)
£965.00 +VAT
Standard 3 Day Tickets (On sale until Friday 6th December or until sold out)
£1125.00+VAT
Full Price 3 Day Tickets
£1225.00+VAT
Buy tickets